updated July 26, 2016

Click the graphic below to go to a Symbaloo, a visual bookmark page
of links to Central New York arts resources.
note: if the graphic links to the main Symbaloo page then register and search for Arts Journalism or after registration try  http://www.symbaloo.com/home/mix/13ePLQ6T6F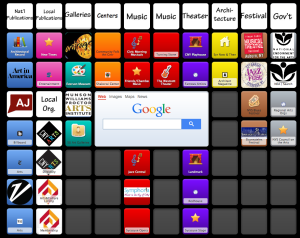 To copy the arts journalism webmix above into your own Symbaloo, go to your Symbaloo, click at the top left (icon looks like bulleted list with down arrow) , then click on add webmix and type in http://www.symbaloo.com/mix/artsjournalism 
A. Researching a new community
1. "State/regional arts agencies
""3. Local newspapers
Other newspaper databases via SU Library: EJournal Locator, Access World News, Library Press Display
B. Digging In: IRS 990s
 1. Only covers tax-exempt organizations. To see if organization is  tax-exempt:
Look on its "About" page or elsewhere on the website
IRS site to check tax-exempt organizations  click on the button before "Are eligible"
 2. Sample 990s
3. How to get a 990
From the organization which is required to provide copy to inspect. May be on its website
Guidestar 

website requires registration
some delay in getting them posted

CitizenAudit – Minimal info for free. Searchable by keyword. Requires paid subscription

4. How to read a 990
C. Public Records
1. Public Records Requests

2. Government Databases
D. Verifying Online Sources
be sure to check your sources and cross-match information
1. Websites
Figure out the type of site

Use the 

A2-C-O criteria

: authority, accuracy, currency,coverage, objectivity

See what it says about itself

Who registered it?  

WHOIS

 at

Netsol.com

Find related sites  

formula is 

related:domain

.zzz
example:   related:everson.org
2. Other ways to verify
For more tips on verifying information or pictures, go to the Verification Handbook
 E. Super Searcher Tips
 1. Search Engine trix
a.Bing  ( Bing filters; no advanced Bing)   Google     Google Advanced    Google search operators   Yahoo!     Yahoo! Advanced   Nine other search engines
b.  Write complex search statements
Phrase search — put adjacent words in quotes
Filter

By type of media on the search engine main page
By adjacent terms: Use phrase searching, putting adjacent terms in quotes: "Grand Rapids" rather than Grand Rapids (no quotes)
By website:  keyword site:domain.zzz,
such as "time for three" site:indystar..com
Unwanted terms: use the minus before any term you don't want "earl sweatshirt" -2013 -2014
Tip: All these filters can be easily done on the advanced search engine page (see above)
2. Twitter search
Research an arts organization on the COMPANY tab. Also look by person's name, company or industry.
Network with sources — use Advanced Search with keywords and put in local zip codes
Background key players on the PEOPLE tab
Find former employees– use Advanced Search and put in a phrase, such as "Portland Symphony"
Search for groups to join  [you can message group members free by mousing over the name and looking to the right to send a message]
Tip: once a professional journalist in a year — join the LinkedIn group, LinkedIn for Journalists, do the webinar and get a premium subscription free for a year.

"4. Online Phone Books
F. Three Resources You Can't Live Without
Final cool new trick:  If This, Then That
——————