This session, and the sites below, are an accompanyment to your professor's seminar on how to find a job.  These resources focus specifically on the online resources to help in the job search. 
1. Researching a market
A.  DMA, Designated Market Area
A list from 1 to 220 of the media markets in the U.S.
B. SRDS, Standard Rate and Data Service
A database used by advertisers but helpful to get demographics and maps of a market, list of all stations and ownership, affiliate, personnel at each.
Step 1: This direct link  should work if you are in a campus lab. If not, at library website, click on tab for databases and put in SRDS. When you get to SRDS web page, click on TV and Cable.  You should see the screen below:
Don't miss the DMA map and local demographic info: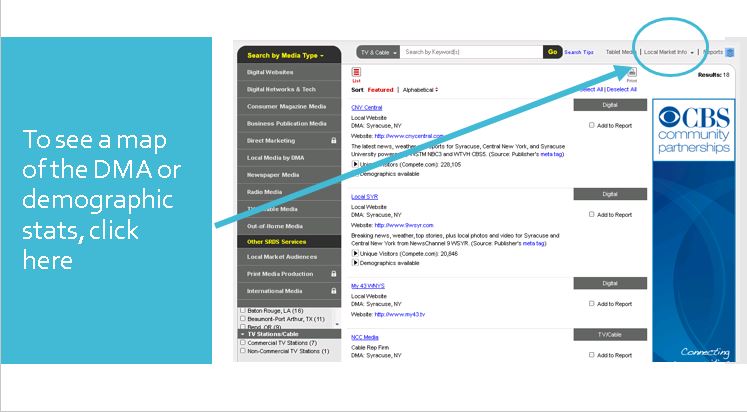 Note that you should not trust the names of the staff personnel because they change frequently.
Select state in pull down menu or click on map.  On the state  page  use pull down menu to find a  county or city; see below:

D. Other Media 
Newslink – website directory for all media, internationally
Newspaper databases – Bird Library has this helpful subject guide to help you find newspapers in various databases.  Tip: for big markets, see what newspaper critic says about the station
Trade Press – Search the trade press sites below by filtering with the name of the news organization, i.e. WSYR site:MediaBistro.com
Search engine research
E. The news organization itself
Its website
It's obvious to keep up with the station website
Watch That Page allows you to follow changes on a specific page. This site will send you an email alert that tells you when the page changed, so put in the station's page of talent biographies and you'll learn about on-air changes.
Social media
2. Making connections
A. The Obvious
Search engines are ways to find stations and personnel
Whitepages.com brings back phone numbers for anyone who has a listed telephone land line. Or you can reverse a number and find out an address.
Social media can be helpful (more later)
The CDC staff have advice, handouts and services, such as a resume review.
NewhouseNetwork  to access this alumni database you must take the Job Hunt seminar.
Then you get access to alums who have said they want to help mentor students.
C. SU Resources
SU Libraries database, Leadership Library includes phone numbers and emails for TV networks and some stations
SU Career Services at Schine
D. Linked In
Use advanced search for people or companies
Tip: Here's a way (thanks to Kim Brown at SU Career Services) that you can connect with someone on LinkedIn if you're not connected. You can send a message through a groups if you both are members. Join groups that relate to your career path.  If you go to the Group, then search the members. If you find someone you'd like to connect with, see the link right there to send a message.
Tie to LinkedIn so you see LinkedIn contacts related to the jobs on simplyhired.com
3. Finding job postings
# # #