As of January 1, 2017, this JTools unit is not being updated. 
Use the links below as you watch the video above
Tips for Effective Searches
 1. Use More than One Search Engine
They don't all find the same thing!
Top 15 Most Popular Search Engines
2. Learn Your Search Engine
Bing         ( no advanced search)  Bing Help Guide
Google     Google Advanced  Google Help Guide
Yahoo!     Yahoo! Advanced  Yahoo! Help Guide
Remember to use filters for the type of info, date or location you want.
3. Write Complex Search Statements
Use phrase searching: put words that appear next to each other in quotes, i.e. "Newhouse School"
Narrow your search to one website:  use this formula —

"key phrase" site:domain.xxx  
example: "Lorraine Branham" site:syr.edu

Use a minus to delete terms:   "Mirror Awards" -2015 -2014 -2013
 4. Try a Directory
5. Use Ready References
Ref desk (this has a poor graphical look, but it's legit)
Voice of America  to help you pronounce names
Phone Books and reverse directories:  Whitepages.com  Anywho.com
Duff Wilson's Reporter's Desktop
Verifying Sources
1. Figure out the type of site
2. Use the A2-C-O criteria: authority, accuracy, currency, objectivity
3. See what it says about itself
4. Who registered it?   WHOIS at Netsol.com
remember don't put in the www, just what comes after that
5. Find related sites  formula is related: domain.xxx  
example: related:newhouse.syr.edu
Other Quick Trix
note: Topsy is mentioned in the video, but unfortunately it no longer exists.
Snopes   to check out whether email warning is accurate
Internet Archive: Wayback Machine  for last image of a website that's down
Tineye  or Google Images (click on camera)  to check the online original of a photo
Homework
Read How Proper Online Research Works by Paul Gil.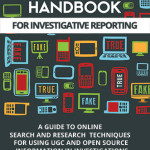 click picture to link to handbook
Like this type of learning?  Take Google's top researcher's free course on Power Searching.
updated 06.29.15