Best Online Resources for Reporters
As of August, 2017, this JTools unit is not being updated, but you can still use the links below.
Here is the older video version: http://youtu.be/o8Qms7AVBaA
1. Quick  references
Itools  (dictionary, thesaurus, etc)
AP Styleguide Online  (once in an explanation, click in upper right for broadcast or print stylebook)
2. Background from media sources
Syracuse Newspapers archives at SU Libraries

Other Newspapers and media
Google News archive

put in a search, click

News

, click

Search tools

, click

Recent

to find pull-down menu,

Archive 

see below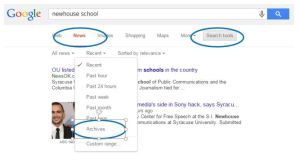 3. Background a topic or issue
Credo Reference
Academic | Scholarly Articles:
4. Background a Country
Economist Intelligence Unit   look for: Country Report or  Country Commerce
5. Background a Business
Mergent Online   some private company info, too!
Backgrounding for Sports: SU Librarian Sports Management List and a comprehensive report on sports marketing  from Richard Miller & Associates
6. Background Well-Known People
Biography Reference Center (EBSCO)
7. Find Statistics
Demographics at US. Census Quick Facts  [some student find CensusReporter, designed by journlists using Census Data,  is easier to use]
Data-Planet Statistical Datasets – data visualization tool for making charts and graphs
Proquest Statistical Insight stats in the news
8. Find Poll Results
9. Check Political Facts
SU Libraries Fact Checking List
10. Research Media
SRDS  via SU Libraries: select the type of media — Cable/TV or newspapers or radio
Other Links
# # #